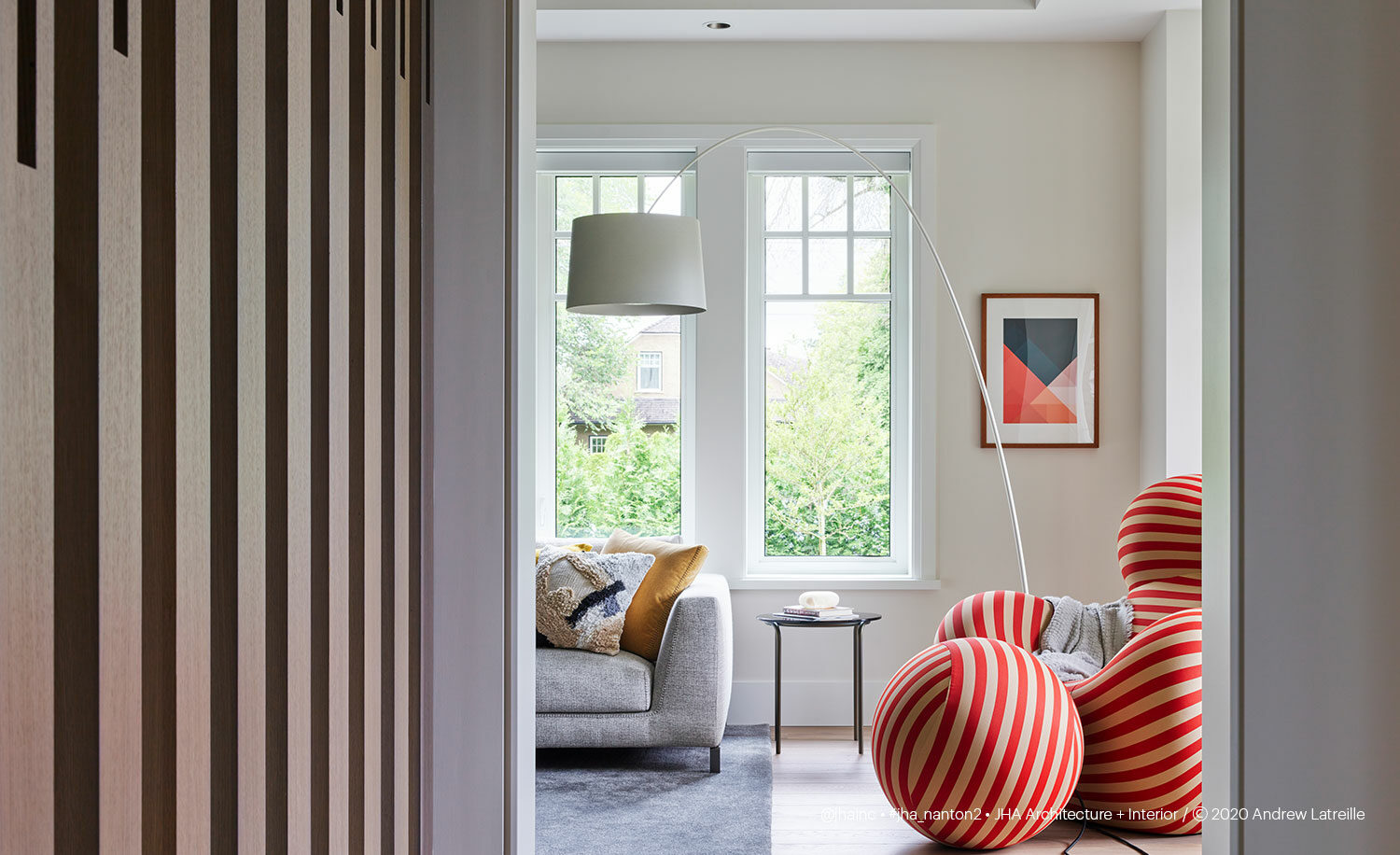 Nanton II Residence
Nanton II – Project Overview
The property is located in an older neighbourhood in Vancouver. Homeowners specifically requested the architectural design should blend with the neighbouring architectural characteristics. The architecture paid homage to the estate homes in the nearby First Shaughnessy District. As a firm we have designed several homes in the greater Shaughnessy area, and also on Nanton Avenue, which is why we dubbed this project the Nanton II Residence.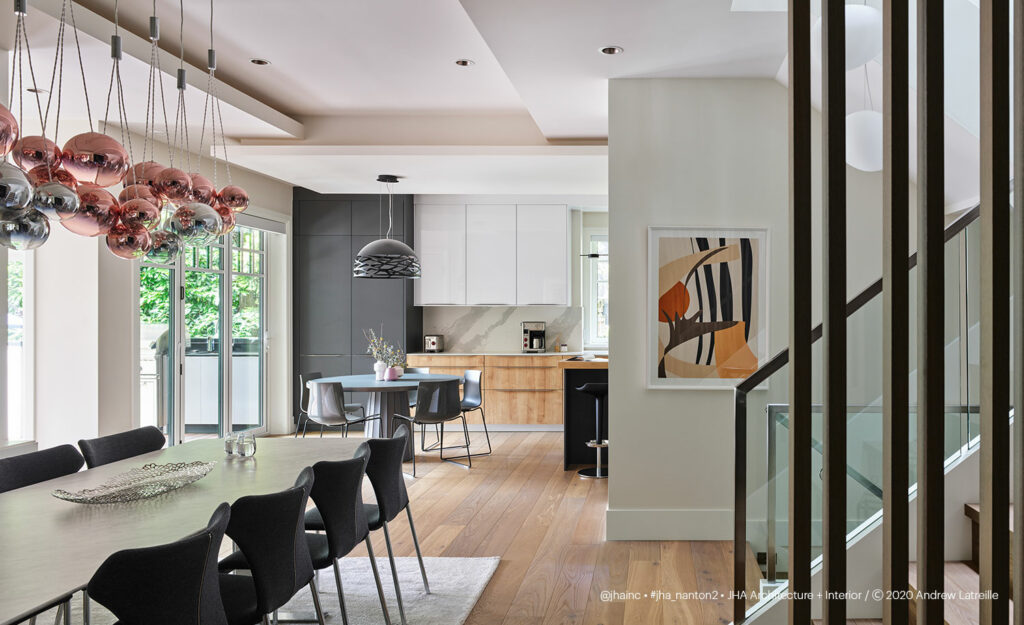 Interior Design
The interiors, however, are decidedly more contemporary. The layout has been custom designed for a multi-generation home. Multiple zoned areas such as a dedicated reading cove and tv room are designed to accommodate all members of the family and their busy activities. The L-shape kitchen, nook and dining room keeps the kitchen activities within arm's reach but the main cooking activities further away. The basement mudroom also acts as a dirty entry. A floor height mop sink is installed for cleaning sports equipment and muddy boots. A professional-grade theatre, an exercise room and a large rec room are all havens for relaxation and entertaining.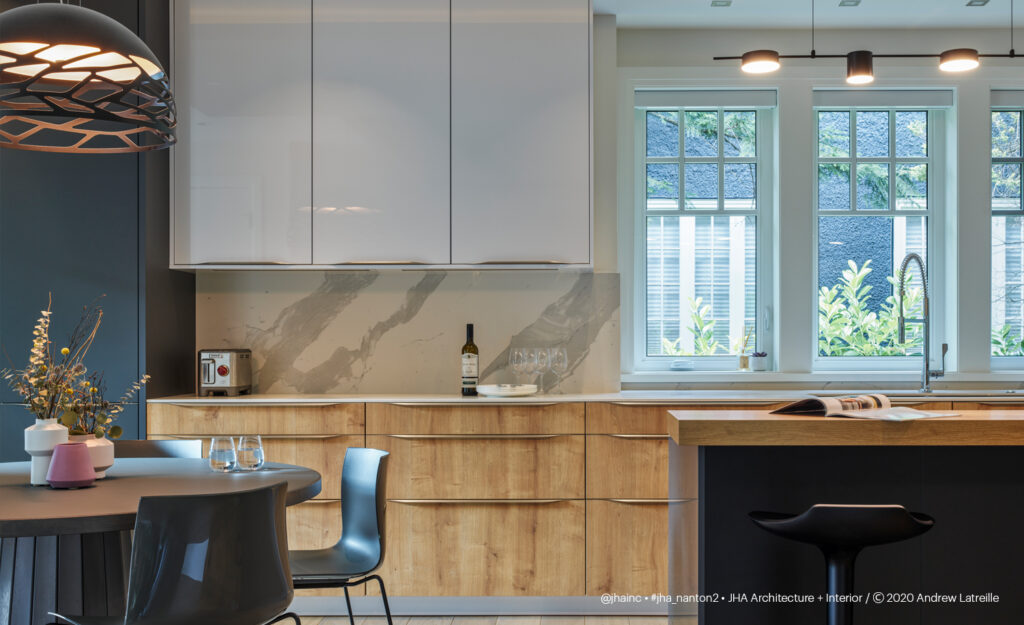 Custom Touches
Extensive built-in millwork is seen throughout this home. In the kitchen, custom vanities for all bathrooms, tailor-made master furnishing, basement office and laundry room. Natural materials including oak, walnut and marbles are specified extensively in this home. 12 mm porcelain countertops with European laminated millwork in the kitchen for ease of maintenance and their clean lines. Detailed attention is paid to contrast soft and hard textures with metal and glass accents.
Both fireplace mantles in the main floor living room and basement rec room are hand-trolled finished with traditional Venetian plaster. Layered dropped ceilings with architectural recessed LEDs and concealed linear LEDs are designed for visual interest and accommodate a complicated HVAC system. Iconic decorative luminaires are used as visual anchors for each area.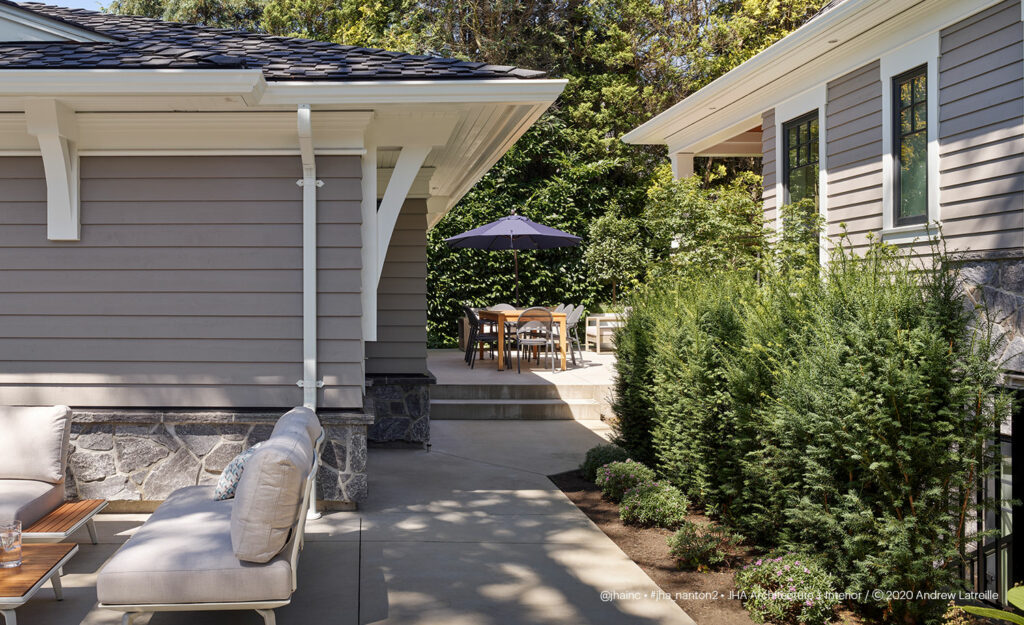 Backyard Space
As the house sits quite far back from the street on the southside due to municipal bylaw requirements, the backyard design takes advantage of the changing slopes of the land, creating a layered effect. Strategically placed planting and garage position provide shading and privacy for this outdoor oasis. The outdoor BBQ area, under the covered porch, is equipped with a good-sized gas grill, a sink and countertop prep space and located immediately outside of the main kitchen for easy cooking access and serving to both interior and exterior seating areas.
The exterior seating area takes advantage of the shading, privacy and quietness afforded by the garage and parameter mature trees. Architectural concrete with broomed finished was selected for its simplicity and ease of maintenance. Patterned saw-cut lines carefully laid out for visual interest and to prevent cracking. The heat retention thermal mass quality also extends the useful seasons of the outdoor space. In the evenings, this outdoor space is discreetly illuminated by architectural recessed LEDs and "Dark Sky" compliant landscape lighting, creating a quiet and relaxed environment and reduced light pollution from neighbours and the environment.


Inspired by Nanton II? Let's talk!
Are you looking to start an architecture project in Vancouver?
We'd love to help make your dream home a reality.

Contact the office at 604-264-1072 or email info@jhainc.ca to set up a consultation today.
Want to see more images of this project?
Nanton II
Want to see more projects like this?
Check out the following projects which also embody the essence of Shaughnessy: